Working abroad for a summer or two is great fun when you are at university or straight out of school, but some people want more than a summer job abroad – they find they are not satisfied with just a few months away.
Perhaps they never had opportunity to travel and now feel isolated within their country's borders, or maybe they briefly spent time elsewhere and could not afford to stay as long as they wished.
Maybe they even feel they have experienced everything on offer at home and crave the adventure of building up a new life from nothing. Alternatively, they may have friends or relatives who have already left and wish to follow them over the horizon.
Everyone who decides to move abroad has an individual combination of motivations, but some reasons crop up regularly: desire for change, a better job or a more appealing lifestyle.
In a series of blogs on life as an expatriate, Working Abroad Magazine will explore the pros and cons of setting up a new life in another country, the unexpected pitfalls and the welcome surprises, the time consuming paperwork and the agonising decision over what to take with you.
First of all, the biggest decision is where in the world you wish to emigrate, as this will have the largest effect on your future plans.
Moving to another country for an extended length of time will always be complicated, but some nations are more accepting of foreign nationals than others.
UK citizens will find it easier to relocate to a European country, particularly one in the European Union (EU) because of mutual trade and immigration agreements, than to the US or Canada which can involve waiting for months or even years for approval. See our block post about working in the European Union, which was published on the blog recently.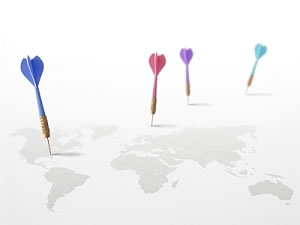 Likewise, people who were born in a country outside the EU will not enjoy any special benefits there and may prefer to seek a new life in a nation with ties or friendly relations with their own to minimise the inevitable red tape.
Picking a suitable country will rarely depend on the convenience of its immigration policy. Many people choose a destination because they like the weather, the people, the culture or the pace, maybe "falling in love" after going on holiday.
Others are more career-driven, moving wherever looks like the best place to improve their job prospects. Indeed, most expats before the second half of the 20th century moved because of work requirements. It is only recently that the relative cheapness and ease of international travel made emigration an option rather than a necessity.
Moving abroad permanently to work is easier if you can organise a job before you leave, either transferring within your current company or ensuring you have a job waiting for you with a foreign employer. This is because long-term work visas are very difficult to obtain without a sponsor, and some countries will not let you move there for more than a year if you plan to work as well. This causes an age split within the expatriate community, as a high proportion will be retired people using investments or pensions to fund their lifestyles, as they cannot legally work.
If the main factor for moving is to get out of your home country, it can be tempting to go for a place that offers the polar opposite in terms of population density, urbanisation, weather and wealth. This is why two very popular destinations for British expatriates are rural France and Spain – sunny days, slower pace of life, a personalised feel in smaller businesses and the laidback Continental lifestyle can seem irresistible to someone used to regular rain, a lengthy daily commute and grim, city life.
Yet language barriers are more obvious when faced with conversing in a different tongue everyday, so other English-speaking countries such as the US, Canada, Australia and New Zealand attract thousands of Brits every year.
But to be honest – choosing the best country for your needs is only the first decision in a long series of choices that will require many hours of research, documentation and bureaucracy. The next blog will look at the ins and outs of becoming an expatriate in greater detail on timescales, red tape and requirements, and will help point you in the right direction for organising your overseas relocation. In the mean time, the internet has a staggering number of expat forums where people can make friends and ask questions: a few of the best include EasyExpat, ShelterOffshore and BritishExpats.