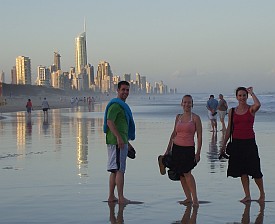 This may or may not surprise many readers, but as a writer based in the United States, I tend to be much more familiar with US and Canada based international work and volunteer organizations than I am with those based in other countries around the world. That's why I'm so pleased to have come across Awesome Work & Travel, a short-term work placement organization based in South Africa!
Awesome Work & Travel is a sever-year-old placement organization offering work placements for young South Africans looking to boost their resumes with international experience, specifically in the hospitality field. They offer assistance with placements for paid work, volunteer jobs and internships in English-speaking countries.
Projects and Destinations
Awesome Work & Travel focuses on three regions for work, internships and volunteer projects: United States, Britain and Canada.  The Internship USA program is a fairly structured internship program which focuses on skills-building in the food and beverage industry, namely at the swanky Ritz-Carlton hotel in New York City. Interns work full time at the hotel and in the hotel restaurant, doing everything from sales to waiting tables to working in the kitchen. The Work USA  program is much more flexible, with Awesome Work and Travel providing visa and work placement assistance in virtually any type of job available. You can either find a position yourself, or work with one of the organizations partner organizations, which comprise large hospitality organizations like hotels, resorts and casinos. Work placements are both seasonal and long-term, but full-year placements are only available to students who are enrolled in university.
The Work Canada program is perfect for all ski and snowboard fanatics out there – through the program, participants are placed in any number of jobs at Whistler Blackcomb, a premier big mountain ski resort. From hospitality to ski instruction to childcare, South African workers are fully immersed in the Whistler culture, living, working and playing on the mountain. Since this work is seasonal, applications are only accepted in the first half of the year.
Finally, the Intern Britain program places South Africans in positions through their partner Umi Hotels, which has locations in both London and Brighton. Internships usually last about 6 months, and are offered in partnership with Work Abroad Magazine favorite BUNAC, so interns get support from both Awesome Work & Travel and BUNAC while abroad.
Application Process
Awesome Work and Travel has a very streamlined and straightforward application process. You can choose either the online application or print out a hard copy. You only need to supply your basic information, work history and start dates. Each application is specific to the program, and if you are interested in more than one program, be sure to check with Awesome Work and Travel staff to find out if you can be considered for multiple programs without having to create a new application each time.
If you are working with the internship programs, there is probably a bit more to do once you are accepted by Awesome and more into the placement process. Potential employers are more likely to want to know a bit more about you, and might even want to arrange a phone or Skype interview before a placement is offered. This step isn't listed on the website, and each placement will be different. But you should always be prepared to fill out some extra forms or answer a few extra emails to make sure all information is in the right hands!
Fees & Services
Fees for participating in Awesome Work and Travel programs are on par with many similar organizations – you will receive assistance with your visa, housing and placement for a fee of a few thousand dollars (or South African Rand). Internship fees are reasonable for the US program at less than $2000 for a full-year placement. However, living and working in New York City is incredibly expensive, so you should keep that in mind when considering the US program. The Canada program at Whistler is similarly reasonable – R7850 ($1,080) for a full-year placement. The Intern Britain program cost is about £500 ($780).
These fees do not include flights, visa fees or housing. However, Awesome Work and Travel does provide an outline of what these costs might be so that workers and interns have an idea of how much money they will need to spend to get started. Of course, the work programs will pay a wage, some of which will be used to pay for housing and food, but some may cover the cost of program placement in the long term.
At this point I'll note that costs are listed on the individual program pages – so you have to do a bunch of clicking to find out how much a program will cost. This is important to keep in mind as you are navigating the site; I typically find it more helpful to have everything having to do with fees listed on one page (but that's just my personal preference!).
A review of the website confirms that the main focus of the growing organization is hospitality – at least for the time being. The Upcoming Programs section indicates that Awesome Work and Travel is looking to expand its program offerings to attract more diverse workers with teaching positions, as well as diversify geographically to China and New Zealand. If hospitality isn't really your thing, don't write-off Awesome Work and Travel. Keep checking the website as the relatively-young organization grows, and offers more programs to appeal to a variety of travelers.