In the last blog we looked at the benefits of working abroad in the European Union for residents of member states, but now let's consider an opportunity across the pond.
Each year, about 300 people find work in New York through a programme called the Mountbatten Internship, a sponsorship arrangement that enables non-US citizens to spend a year working at a paid job in the Big Apple.
It's a graduate scheme that offers university leavers the chance to gain business experience with blue chip companies in one of the world's largest financial centres.
Successful applicants can gain a qualification in international business practice – either an MBA or a postgraduate certificate depending on which programme they choose.
The placement is primarily business and management-orientated, and people will spend most of their time working at entry-level in an office, even if there is potential for work in the field.
You can expect long hours and in some cases a lengthy daily commute, as some placements are outside New York City itself.
However, the internship is classed as an exchange programme and is not open for US, Canadian or Mexican citizens, or Green Card holders: they can apply for a similar internship in London.
Most people placed on a Mountbatten Internship are British or from European Union member states, although there are opportunities for citizens of Asian and Australasian countries as well.
The programme is tough and demanding, but potentially very rewarding as well.
Paul Marshall, a former production journalist who is currently on Mountbatten's New York programme, said it was easier to adjust to the challenging work environment if you have a clear idea of what you want from the internship.
"You have to get used to so many things that are hard, such as a new job, getting around the city, having no money, integrating with new people, so any one of these can get you down," he said.
"The trick is not to let it and go with the flow. Having a good idea of what you want out of it – which in my case was a good job – is a good start, and I've taken it from there."
Paul, who heard about Mountbatten from a friend whose brother completed the programme, is working abroad for financial services firm UBS in Stamford, Connecticut.
He said: "My job is working in the middle office for the fixed income/government section of the investment bank's operations department.
"My responsibilities include settling trades in the variety of operating systems the bank uses, including the front office – that's the trading floor and traders – middle office and back office, which means external clients, the bank, the Federal Reserve System and so on.
"It also entails speaking with traders, identifying and dealing with live trades to make sure they do not fail and performing the daily functions and reconciliations as per the department's needs. An example would be looking back through old trades that have failed, or identifying old position and cash breaks or running live system checks that identify problems.
"The job is complicated, but no more so than having to bash out a live report or reporting a breaking story – although you have to be careful when playing around with hundreds of million dollar trades!"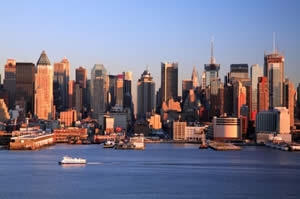 To be in with a chance of selection, you must meet three basic requirements. Firstly, you need to be at least 21 years old before the programme starts.
Secondly, you need a first degree from a university outside the US, and many applicants even have postgraduate qualifications as well.
Finally, you must have at least one year's worth of experience in a specific field related to that which you want to work in while you are in New York.
This means if you apply for a placement in Human Resources, you must have spent 12 months or more working either in a firm's HR department or linked to HR, and you will have to provide evidence to prove it.
Other requirements include fluent written and spoken English, a typing speed of at least 45 words per minute and a suitable personality for living with strangers in an unfamiliar city.
Under the umbrella definition of management, business, commerce and finance, Mountbatten offers placements in 12 subcatagories.
These are: architecture, event management, executive search, finance, government, HR, IT, law, marketing, non-profit, post-production services (media), and real estate.
The selection process is thorough, said Paul, but does not involve a detailed academic analysis.
"You are matched to sponsor companies and the various jobs on offer through the programme, then have to pass a final interview before you are fully accepted.
"You have to have a degree and at least a year of work experience in the field of your degree, but the academic qualifications are only one part.
"The interviewers mainly assess you on your personality and suitability for the programme in general, such as your ability to cope with the hours, if you are happy living with four or five other people and so on."
All interns live in shared flats in a Manhattan apartment building, and cannot find their own accommodation. This can be tough for people used to their own space, or for those who prefer a quiet home life, but is easier for graduates recently out of student houses. Married couples or partners are not encouraged to apply together.
The trade-off with Mountbatten's apartment block is the rooms are free! Interns do not have to pay rent during their time in New York.
The internship has strict entry requirements and rules to qualify under US visa regulations, and successful applicants are expected to honour their year-long commitment to the programme.
It is not a free placement either. Although accommodation is included and you get a $1,000 living allowance every month, registering for the postgraduate certificate costs a total of £6,100.
People who opt for the full MBA face even higher bills: £2,500 and a further $32,000 to cover their 12 months in New York and then four additional months in Asia.
Not only that, you have to pay for your own flights and J1 visa expenses before you set foot on a plane.
Paul said: "The visa is a complicated process and it cost me a lot of money. You have to get a J1 working visa, which I actually had when I worked in LA a couple of years ago, but it really not a simple process."
The Mountbatten Institute recommends that interns need at least $900 to cover basic expenses in the first few weeks, as food, electricity and telephone bills are not included either.
Serious, financial considerations might dim the internship's appeal, but do not forget you would spend 12 months living and working in New York – an impressive addition to any CV.
With that in mind, what is the best bit of being a Mountbatten intern?
"It's living next to Manhattan in one of the best cities in the world, with lots of like-minded people your own age," said Paul. "Whatever you want from the city you can take – if you want to go to a 14th century Spanish history lecture on architecture you could find it, or if you want to go to a dingy dive bar every night you could do that.
"The city literally has everything in it, it's such an intense place."
Fancy your chances? Applicants are interviewed in London, Sydney and Bangkok, and there are two intakes per year: one in March and one in September.
More detailed information about application deadlines for both programmes is available at the bottom of this page. You can apply directly through the website.