The holiday season is kicking into full gear in the U.S., where this past Thursday millions celebrated Thanksgiving with friends and family…and lots of turkey. In other parts of the world, the end of November signals that Christmas shopping season, and Christmas carols fill stores and shopping malls.
In every region of the world, there are traditions that make everyone feel the holiday spirit – whether its the lighting of the Rockefeller Center Christmas tree or seeing Rudolph the Red-Nosed Reindeer on television. But what many expats and others living and working abroad realize is that many customs and traditions will be vastly different than those of the home country.
For example, as a New Yorker I am used to having plenty to do around the city, even on the biggest holidays (like Christmas). But in many parts of the world, even in the hustle and bustle of London, cities virtually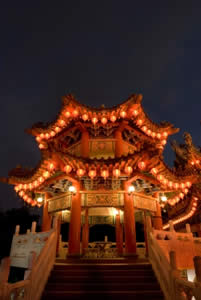 shut-down, as most people stay in for the day to spend time with family. It's also important to think about the religious character of the city or country in which you are living – the style and tone of a celebration in a country that is predominantly Roman Catholic might be very different from that of another country.
But what can make spending the holidays abroad as an expat is the exploration of all of these new traditions and experiences. Below are just some examples of holiday traditions in other countries:
EUROPE
Paris: Paris isn't known as the City of Light for nothing! One of the grandest traditions of France's capital city is the stunning lighting displays along the major boulevards – including the Champs-Elysee – and landmarks like the Arc de Triomphe, Eiffel Tower and Notre Dame Cathedral.
Italy: Unlike many more commercialized versions of the holidays, Italian children don't write letters to Santa for Christmas, they write letters to the parents to tell them how much they love them! And Christmas isn't the only day that gets a big celebration – Italy also goes all out for St. Stephen's Day (December 26) and Epiphany (January 6) to round out the Christmas season.
AFRICA
Congo: In the Congo, caroling is the Christmas tradition, and many start the day being awoken by a group of carolers walking the streets spreading their cheer!
South Africa: In the Southern Hemisphere, Christmas is a summer holiday, and the day is usually spent at the beach or camping with family. South Africans extend the celebration to Boxing Day (December 26) with more outdoor dining and activities.
LATIN AMERICA
Bolivia: Less of a religious observance, and more of a celebration, December 25 in Bolivia calls for a feast recognizing the harvest of the previous year and celebrating Mother Earth!
Ecuador: Also celebrated in the summer months, Ecuadorian Christmas sees children placing shoes at their windows for the Chris-child to place toys and gifts in. Most families celebrate at midnight mass, then take to the streets with noisemakers for dancing and music.
MIDDLE EAST
Iran: In honor of the Winter Solstice, Iran's Persian population celebrates with winter feasts including Yalda, a celebration of good over evil illustrated by the year's longest night turning into light. Iranian Christians celebrate "Little Feast" for the first 25 days of December, during which they eat no animal product. The feast is broken on Christmas Day, when children are given new clothing to wear proudly at their Christmas celebrations.
Israel: Hanukkah in Israel calls for many celebrations, including the annual torch-bearing relay that ends in Jerusalem to light the city's menorah. Schools are closed on Hanukkah, and children stay home with their parents to play dreidel and eat traditional foods like latkes and sufganyot.
ASIA
China: The winter holiday season in China is also known as the "Spring Festival", a children-focused celebration consisting of gift-giving, meals and declarations of respect for ancestors.
Japan: While most Japanese people do not celebrate traditional Christmas, many have adopted the traditions of decorating their homes in lights and buying pine trees. Gift-giving traditions focus less on family, and more on doing things for others like caring for the sick and elderly.
AUSTRALIA
Also in the Southern Hemisphere, and therefore taking place in the summer climate, Australian Christmas typically occurs at the beach or outdoors, with Santa Claus surfing in to give gifts and eat the traditional Christmas feast of turkey and pudding. Instead of a Christmas tree, Australian gather round the Christmas bush, and native plant covered in red flowers.
No matter where you celebrate your holiday this season, if you are living and working abroad you are bound to uncover a new tradition, making your home away from home all the more exciting, and adding to the sense of adventure that comes with living overseas!