amani on December 8th, 2013
Working hostels are simply brilliant and I would recommend them to anyone. Whether you are a backpacker looking to earn some dollars, or someone just staying in hostels along your travels, getting into the habit of staying in working hostels is a habit I would recommend. A working hostel holds that name as it actively looks for work for guests. So, upon arrival you can have a job in minutes, or at the most, within a couple of days. Almost always, the work is seasonal work – pruning, picking or packing fruit and vegetables. However, they also will often hire within the hostel itself but this is something I will talk about more in another post as almost all hostels follow this style of hiring.
Alongside the wonder that is word-of-mouth, working hostels act as one of the best gateways to finding a job when travelling. Not only this, but they also act as a source of the freshest and tastiest (free) produce – any crop being picked is almost always brought home by the basket load and shared. Whilst in Australia and New Zealand, I remember eating my lifetimes supply of the most amazing pineapple, melon, peaches, apricots and asparagus! As many find, when you are on a budget that enables for noodle sandwiches and not much else, being provided with this stuff is a gem.
The social life of these hostels is always wonderful too. It will be the most homely and welcoming space you will find along your travels, as they are always the smaller and less bustling hostels. Everyone knows everyone and the owners generally care about the guests like they are family. Sometimes this family vibe can feel a little intimidating upon arrival, but give it an evening of sitting on the sofa or a day in the fields, and this will pass and you will feel a part of it, so do not worry. Employers within the seasonal work industry are often known not always being as fair as they should, so by having a hostel manager or fellow pickers on your side, you have a good foundation of support to put anything right. Therefore I would recommend going through these to find seasonal work rather than sites you find online. By finding work through your hostel, it reduces your chances of having a jammy boss as working hostels have their regular farms they liase with, and so it is not in the farms interest to be stingy with any employees.
I recommend spending some time on Google prior to working out where to stay, as these days people seem to be pretty good at writing reviews of places they have stayed and/or worked. Also, if in doubt don't be afraid to hop on the phone. By calling the hostels, you get a much better insight into the vibe of the place and what is on offer job and social-wise – try not to go solely on the website or online reviews. A chat is always the best source of information. I found that once you start staying and/or working in these type of hostels, you can easily gather up contacts and information from fellow veg pickers, as to which direction is best to head next.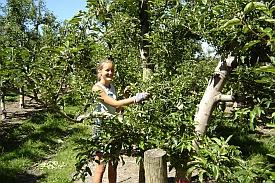 Most places take people on for anything from two weeks to two months, and sometimes more. This is why working hostels provide the perfect pit-stop for sad looking wallets. They also always offer cheaper rates for guests staying for longer periods of time, even if just a couple of weeks.
I have focused this particular post on a few key hostels in Queensland, Australia. Over the following weeks I will follow up with information on other areas in Australia, and around the world. I will also write specifically about seasonal work itself as knowing where in particular to go, and when to go is the key to finding work in this area – there are hubs around the country and the time of year depicts what is happening and where, and how much you will be paid. In the mean time, there are lot of websites out there with this information on so you can gather a good picture of the details needed to get stuck into seasonal work out there.
Working hostels in Queensland, Australia
Bundaberg
This is a key spot for those looking for seasonal work, and has easy access to the beautiful area surrounding it. It is a popular spot for backpackers stopping to work, so gathering a good group of friends during your stay here is guaranteed. Bundaberg is also known as the 'gateway to the reef', with exquisite underwater sites to see, along with vast quantities of fruit and vegetables to pick. This has led to many travellers taking their days off to qualify as an Open Waters Diver from just $299.
Below is just one hostel, loved by all who stay there, but hop on Google for a long list of places to kip and find work in Bundaberg.
The Grand Hostel
Attached to a hotel, this hostel is efficiently run and offers great support for working travellers and a cosy place to stay for as short or as long as you need.
http://web.me.com/msconnor/GrandHotel/Welcome.html
Bowen
This place is a gem in the crown of the Whitsundays, which are an essential spot to explore during your travels in Australia. Bowen offers untouched beaches, with endless amounts of snorkelling and diving to be done. It does not have quite the amount of work other areas do, but is well worth researching and timing it right to spend some time in this beautiful place.
Barnacles Backpackers
This peaceful hostel is perfectly located 500m from the beach and provides transport, links and support to find work in the area.
www.barnaclesbackpackers.com
Ayr
The little town of Ayr has a great spirit and almost always has work during the season due to its abundance of water, escaping any drought issues any other spot might face.
Delta Hostel
This well-established hostel provides you with all manor of fruit and vegetable picking in the area, along with a renowned family vibe. Backpackers often pay more than one visit to this place, with Delta having many regulars up their sleeves.
http://www.deltabackpackers.com/delta/
Ayr Backpackers
Another very welcoming hostel, with connections to almost all the farms in the area. With a treat of a swimming pool in the back yard, you can soak your tired muscles and soak up the rays holding a ice cold stubby once your day is done.
www.ayrbackpackers.com.au
Atherton
Tucked away in the beautiful rainforest, this spot is a haven of natural beauty and often thought of as Australia's best kept secret. With Cairns just an hour south, you can explore the outdoors and then grab your dose of city life if need be too.
Atherton Travellers Lodge
A home away from home – soak up a few weeks of life as a proper local thanks to this small and cosy hostel.
Address: 37 Alice Street, Atherton, Queensland
Telephone: +61 (7) 4091-3552
Tags: australia hostels, hostels, work abroad, Youth Hostels
kevin on December 5th, 2013
Working abroad during the long university summer holidays or on gap years enables students to get away and earn money at the same time. Working abroad affords a fantastic opportunity to discover new cultures and gain invaluable work experience.
Many of the largest graduate recruiters are international businesses; they need employees who can demonstrate the ability and willingness to adapt to working abroad.
The majority of travelers look for a job overseas at some point during their gap year to increase their dwindling funds. Work can either earn or save the traveller crucial cash.
Seize the Chance to Work Abroad!
Working abroad is a realistic opportunity for summer holiday adventures and is a fabulous way to meet new people, retain independence and of course to earn some money.
On my gap year I took advantage of unpaid opportunities where I traded work for board and lodging. I helped clean the hostels I stayed in when visiting cities and through WWOOF (Willing Workers on Organic Farms) I stayed on some amazing farms. WOOFF enabled me to visit peaceful places off the well-trodden traveler routes, the work was really enjoyable and the unspoilt views were out of this world. I feel my experiences working abroad greatly added to whole overall traveling experience.
But if trade is not for you, and you want to earn real money working abroad then teaching English is an ideal opportunity. This is perfect working abroad experience to impress graduate recruiters.
The most commonly accepted qualification is a TEFL (Teaching English as a Foreign Language) certificate. A qualification is not required in some countries but with the certificate there are opportunities to work abroad in innumerable countries. You don't even need to speak the local language!
Jo Stucky, a friend from university, lives in Sicily teaching English. She went out there four years ago meaning to stay a few months, get some experience working abroad and have an adventure. Jo enjoyed Italy so much she is still living there in the sunshine, with a lower cost of living, great restaurants and buzzing café culture.
"My decision to work abroad stemmed from both circumstance and childhood dream. Finding myself going nowhere in my first job after university, I decided to seize the moment and fulfill my dream of learning Italian and living abroad. Thinking back over the last few years has made me realize how many challenges I've got through. Arriving with an Italian vocabulary limited to 'ciao' certainly made life difficult but hardly impossible!
Even though I've only gone as far as Italy, there certainly are cultural differences that you need to get your head round at the beginning. You have days where you can sometimes feel a bit of an alien! However, the pros definitely outweigh the cons. After four years abroad, my Italian's certainly improved which, in turn, has opened up new opportunities on the work front. And, of course, I don't overcook pasta anymore!
I think living and working abroad is one of the most positive things you can do. It is a challenge but the satisfaction you get is second to none."
Tags: teaching english abroad, TEFL, work abroad, working abroad
AlexiaW on December 2nd, 2013
It's easy to get caught up in the exciting parts of pursuing a job abroad, like where you will live, who you will meet, and all of the fun you can have. I remember spending a fair share of time daydreaming about the little things like walking to work, taking the bus and buying groceries – all of the things that would be completely new and different to me. But what can often get lost in the shuffle is the job itself, and not necessarily the day-to-day things associated with working overseas, but all of the goals that you have for the the job, and that the jobs has for you.
Work abroad jobs generally require much more planning and legwork than jobs in your home country. Between visas, living arrangements and airfare, the logistics can be time consuming. But the best time to put a significant amount of time into planning for your job abroad is before you even know what the job is! Just as you would if you were looking for a position right out of college, your skills, areas of improvement and objective should be the driving force behind your job decisions. This can not only position you for success at your job abroad, but can help you find a job that is the best fit for you.
The best way to approach the work abroad job search is to start organizing your thoughts, and to determine what you really want to get out of your job. Transitions Abroad magazine has a great template worksheet for working abroad that can help you to get started with outlining your job search strategy. It begins with the basic questions (Where do I want to work? In what industry?), and then slowly encourages you to go into more detail about your skills, and what areas in which you'd like to gain more skill.
You might find that you've designed your perfect job just by filling in some boxes on a spreadsheet. But what next?
The next step in finding a job abroad is the most fun, to me anyway. Using the information that you just organized, start to explore different organizations that might meet your needs, whether or not they currently have job openings. You should also browse the "About Us" section to see what types of position they have, and what kinds of people they hire. Have they been with the organization long, and worked their way up? This could give you some insight into how the organization works, and what kind of culture it promotes.
Once you have an idea of what kind of organizations occupy space in your chosen industry and country, you should start making connections. You might find out that someone you know works for, or has worked with, someone at the organization or has some other connection. If that doesn't happen, start writing emails and asking for informational interviews. You can have these over Skype or on the phone, as a way to learn more about the organization, as well as get your name and face out there as someone who is looking for work abroad.
All of this legwork is helpful because it can keep you "in-the-know" about organizations of interest, and you can continue to check job postings and open positions. Also look for volunteer opportunities within the organization. There might be something that is a good fit for your needs, and could grow into a larger position. Some people travel abroad and take on both a paying job and a volunteer job to meet their needs – working for environmental conservation by day and waiting tables by night can help you do something you love, while exposing you to local culture.
The secret to work abroad is planning, and the planning starts at home. The Internet is a powerful tool, and gives us exposure to many types of organizations and jobs that many people probably didn't know existed a few years ago. It can give you (along with your own initiative) all of the tools you need to find a great job abroad.
If you'd like to learn more about jobs abroad in general, please visit the Work Abroad section of JobMonkey.com.
Tags: find a job, Job Search, travel planning, work abroad