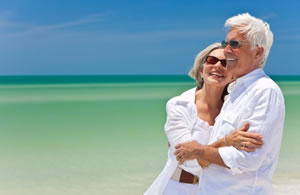 Here at Work Abroad Magazine, we usually focus on people who are just starting out their careers, and decide somewhat early in life to take a risk and move abroad. But there is an often overlooked population in the U.S. who are seeking new opportunities living abroad – retirees! More and more retired people are using their savings to live outside of their comfort zone, seeking new climates and experiences after their children have grown and they no longer have the responsibility of a career.
The most popular locations for American retirees is the Caribbean, as well as Central America and parts of South America. Many of the smaller countries in these regions boast lower costs of living and warm temperatures. Costa Rica, Belize and Panama have historically had more liberal residency requirements, which makes them more attractive to folks looking to establish a new residence and put down some roots.
But not all people who retire from their US careers look for a life of leisure abroad – in fact, many individuals plan on pursuing new job opportunities abroad after they leave the United States post-retirement. It isn't uncommon to read stories about retired couples who choose to use their nest egg to open bed & breakfasts, restaurants or other tourist attractions abroad, giving them the opportunity to continue to work and earn an income while living on the cheap. These are especially popular in low-cost retirement destinations.
Still other retirees are choosing this time in their lives to give back through volunteer experiences abroad. The Peace Corps offers opportunities for retirees to volunteer abroad, with short-term (2 year) commitments, monthly stipends and training. The Peace Corps itself benefits from retired volunteers who have years of experience and specialized skills that they can apply to their projects. This can also be true for retirees volunteering with smaller non-profit groups, which often lack the diverse age groups that more traditional organizations have working for them.
So if you're approaching retirement and are still unsure of your plans, you might want to consider retiring abroad. Now is a great time to explore opportunities that are low cost – and lots of fun! If you've always wanted to live by the ocean, learn French, or simply find a quiet, remote location to reflect on life, retiring abroad might be an attractive choice for you.