While at Working Abroad Magazine our focus is primarily on volunteer and work abroad opportunities, one are that we mention over and over again is study abroad – not just because the study abroad experience can be a great way to learn about new cultures as a college student, but also because a quality study abroad experience can serve as a stepping stone to a job overseas.
Choosing the right study abroad program is an important step for both your academic and long-term career goals – and many students don't decide to study abroad until they have already been accepted and enrolled in their undergraduate program of choice. However, if you are thinking ahead at the time of your college application process, there are a number of ways that you can choose an interesting and ultimately beneficial program.
Don't miss the study abroad in Australia article on WAM because it's full of good information.
Choose a college with a wide variety of offerings.
As far as I know, there is not currently a ranking system for U.S. college study abroad program. However, U.S. News and World Report (a go-to source of rankings of any kind, especially college-related) does track the number of students studying abroad at most colleges. What is interesting about the list is that it isn't the usual suspects of "top schools" in the Ivy League or the west coast premier institutions, but rather programs that require study abroad from all of their students. These colleges have more extensive study abroad offerings, since so many more of their students partake – and they have the full support of the administration, which is one the Chronicle of Higher Education's indicators of a successful study abroad programs.
For example, Goucher College – which has a great reputation in it's own right – sees 100% of its student study abroad.  This is because they require study abroad through their International Scholars Program in the form of a voucher that can be used at any time during any semester. They offer short courses and full academic years in cooperation with world-renowned universities on six continents – which is incredibly extensive for a small liberal arts college. This goes to show that the number of programs to choose from at any college is not directly related to the school's size.
Choose a college that allows flexibility.
There are many people who don't realize their affinity for study abroad and living abroad until they are already well into their college career. In college, I knew many people who spent up to two years in study abroad programs. Navigating something like that can be a challenge, so it's important to think about flexibility when choosing a college. If you are even considering study abroad as a pre-freshmen, find out if you can look elsewhere for study abroad Many schools allow you to take advantage of neighboring schools' programs. The state systems in New York and California, for example, give you to the opportunity to apply to any study abroad program at any college or university in the system for credit – since most of the colleges use similar credit systems. Others will work with students who choose to study abroad through non-academic programs and try to figure out the best way for those programs to provide credits toward graduation. It's best to ask about these types of arrangements as you are visiting colleges and universities.
So what happens if you are already in your junior year and you decide that living abroad is your priority? There are some important things to look out for in study abroad programs that will give you a leg-up on a future working overseas.
Internships abroad
One of the best ways to get a true immersion experience while studying abroad is to participate in an internship program, rather than a full load of courses with in a foreign country. This gives you the opportunity to interact with people in a real-world setting (or at least, slightly more "real world" than a college campus), get a sense of how business culture in a foreign country differs from the U.S. or your home country, and make connections with people and organizations who can become part of your professional network after graduation.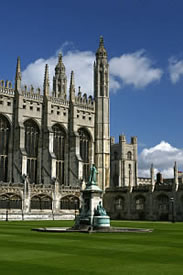 Many schools offer formal internship abroad programs, generally in English-speaking countries. Using organizations like BUNAC to secure visas, students are placed with companies the same way they would be in the States, but also have an advisor from the university to assist with academics and other logistics. BUNAC is also an excellent resource if your school does not offer an internship program that fits your needs. Check with your Office of International Studies or your academic department to determine what the requirements are to receive credit for your experience. This will most likely require some additional paperwork (and some added costs), but if you are serious about an internship, most colleges will be supportive and work with you to find the right fit.
Language-intensive programs
For most students, the big draw to study abroad programs is the opportunity to learn a second (or third) language from native speakers. These skills are invaluable in the work abroad job market. When choosing a language program, pay special attention no only to the types of course offered, but any extras that might be built in to the program, like weekend trips to cultural and historical destinations. This will enhance your language learning experience, and create excellent talking points for an interview with an organization abroad after graduation when you are looking for full time work.
Like any job search, having a network of relationships with people in your field is of the utmost importance when looking for jobs abroad. Having a solid study abroad experience can only enhance your credentials, but having met people in your field and having a familiarity with your field abroad can be the leg-up that you need to get started on a career overseas.