There is one personality trait that links the types of people who want to work abroad: curiosity.
Some may be motivated by higher wages in another country, other tempted by better weather or improved work/life balance. Perhaps the overwhelming factor in the decision is a change of scene or stagnation in current employment.
But underneath that, few people leave their job, familiar routines and family and set off into the unknown without a desire to find out more about the world.
Curiosity is an overriding tendency in journalists as well, and it is not unusual to find trainee reporters dreaming of life as a foreign correspondent, posted to some far-flung destination to cover wars, political upheaval or even an international event such as the World Cup or Olympics. Check out our story about journalism jobs in Australia run previously on WAM.
Chris Corr was not one of these people. He had no experience in journalism and had never really considered it as a career, but still managed to find work in Middle Eastern newsrooms for more than a year – earning him the envy of many journalism students.
Chris, now 29, spent just over 12 months reporting from the West Bank and Israel – based mainly in Bethlehem, Jerusalem and Ramallah – before travelling back to his native Northern Ireland and enrolling on a Journalism Masters degree.
So how exactly did a rookie with no contacts manage to find work abroad?
According to Chris, it was "a total fluke".
"I was visiting a friend in Jerusalem who knew someone who knew another person who worked for the Palestine Times," he said.
"Anyway, they were desperately short of people and asked me if I would help out. They offered me a full-time job at the end of the shift, and I decided to stay.
"After that, I got other posts through word of mouth. They aren't exactly advertised over there!"
During the year, Chris worked as a sub-editor for the Palestine Times before the paper folded, a freelance reporter for the Israeli newspaper Haaretz and a freelance radio producer for the Independent Middle East Media Centre.
For the first role he checked reporters' stories for factual accuracy and spelling, cut word counts down to fit onto the newspaper's pages and wrote headlines. Work was largely office-based and required speed to meet the daily paper's deadline.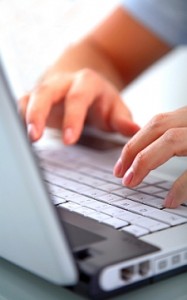 The Palestine Times was an English-language publication, which made it easier for Chris to fit into the newsroom. He said: "I had no experience whatsoever beforehand. My only qualification was an English mother tongue."
Working as a reporter for Haaretz, another daily newspaper published in Hebrew and English editions, Chris interviewed people, researched and wrote stories for other people to edit.  As a freelancer he both followed up stories commissioned by the editor and put forward his own ideas for newsworthy items.
For a bright university graduate, with good spelling and grammar and that vital streak of curiosity, Chris found he took to life as a print journalist easily. However, the radio producer job was more challenging than scribbling quotes into a notebook.
"I basically put together a 10-minute news bulletin of the day's events in the West Bank, Gaza and Israel," he said.
"I compiled and came up with the script, edited it for sound, organised interviews, recorded and held interviews, decided on what stories we covered that day and presented the show. It sounds very grand, but it was actually really small-scale."
Living in Northern Ireland meant Chris was used to the UK's high cost of living, and so living expenses in the Middle East worked out to be far cheaper. All the same, pay rates varied between the different jobs.
He said: "I got paid most for the Haartez work. On average, I earned about US$2,000 a month, which is a fortune in Bethlehem."
While Chris did not speak a word of Hebrew when he arrived in Jerusalem, he found the language barrier less of an obstacle than he expected.
He said: "The language was no problem at all. Lots of people speak English out there, but even if they hadn't, being immersed in a foreign language makes it hard not to pick up."
By the end of the year he was almost fluent in Hebrew, and found working as a reporter was something he wanted to pursue as a career – even though he had not considered journalism before.
"I'm not sure what made me want to do it," he said. "I just fell into it and ended up really enjoying things."
Yet every job has its downsides, and work in foreign countries can exacerbate problems if bureaucratic and political problems arise. Chris struggled with the West Bank's complicated visa system as large parts of the Palestine country is controlled by Israel, and visa renewal can involve leaving the country and applying for a new one, only to be refused re-entry.
Travelling between Israel-controlled regions and the rest of the area can be difficult if you only have entry to the Palestine zones, and can call for tactful diplomacy and a lot of patience.
But red tape was not Chris' only problem – being considered a local caused more difficulties than he had anticipated.
"The worst part of working abroad was the crazy security measures in that part of the world. Entering and leaving Tel Aviv airport was hellish. I got held for about six hours on the way in, and about four when leaving the country.
"While I was there, soldiers constantly mistook me for being Israeli which, since Israelis aren't allowed in the West Bank by law, made life difficult."
Of course, completely immersing himself in Arabic culture had to make an impression, and Chris was awed by both residents and scenery alike.
He managed to explore quite a lot of the area as his job required some travel, and concluded: "The best parts of working abroad in the West Bank and Israel were the people, who were the friendliest and most hospitable I have ever met, and the breathtaking views found across the region."