Studies show that around three-quarters of the world's population hate their jobs. You could spend the next few years suffering at the same old position, or you could see what else is out there.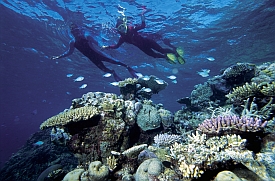 Australia.com reminds us of the cool work opportunities available Down Under through Australia's Work & Holiday Visa. This initiative allows young people from selected countries, including the United States, Turkey, and Malaysia, to spend up to a year working and traveling around Oz.
Some visitors may worry that their jaunt Down Under will just take them to another job they loathe, but it doesn't have to be this way, as Australia offers many unique positions that are some of the coolest in the world.
Eco-friendly travelers may enjoy getting up close and personal with Australia's unique flora and fauna with a conservation job. These positions might see you monitoring the endangered sea turtle population in Arnhem Land, researching the thriving ecosystem of Kangaroo Island, and reviving wetland habitats in the Spencer Gulf. Most of these jobs are unpaid volunteer positions, but they can provide an enriching experience in between paid employment. The website Conservation Volunteers can point tourists inspired by the late Steve Irwin in the right direction for a wide variety of positions.
Tourists with dreams of experiencing the real Australian Outback should consider taking a job in the heart of the country. Australian cattle stations are always on the lookout for ranch-hands willing to muster cattle, shear sheep, and keep the farm running smoothly. The work is hard but rewarding. You'll likely start your shift when the sun rises, but once it sets you can relax by the campfire and socialize with your farming family. While some experience with horses will be to your advantage, on the job training will help anyone get their stockman skills. Your position will typically include all meals and accommodation, plus ample money to travel with once your tenure is done. Jackaroo Jillaroo School and VisitOz can give you the training you need, and then help you find cattle station work.
If all that sounds too grueling, consider becoming a surf instructor. You can enjoy the sunshine, sandy beaches, and killer waves Australia is famous for, and get paid for it. The surf leisure industry is a growing market, and the skills you develop in Australia will make you more desirable for a position back home or in another beach loving nation. Whether you're a water baby or a surfing novice, you'll need some training in beach lifesaving and surf instruction before you get started. To maximize your job opportunities, you could also consider training in windsurfing as well. Experienced coaches will tailor the course to your skills to help you get in the water, and get paid, faster. Flying Fish in Sydney and Xtreme Gap Year can give you the education you need to get started, and help point you in the right direction for paid employment.
The backpacker budgets of most international travelers mean they only dream about staying at one of Australia's luxury resorts. But you needn't just imagine soaking up the opulence; you could be a part of it by working on a resort. While there are resorts everyone in Australia the best opportunities for visa holders are in Queensland, particularly the northern areas around the Whitsundays and Port Douglas. You might find yourself mixing cocktails behind the bars, leading scuba dive expeditions in the Great Barrier Reef, or cooking up a feast in the gourmet restaurants. Experience in the hospitality and retail industries, or qualifications such as the Responsible Service of Alcohol certificate, will help you get an edge over your competitors. Work is available all year round, although there are more casual positions available from September through to January to cope with the summer holiday rush. Approach the resorts you're interested in with a current resume and a positive attitude and you could soon be living in the lap of luxury.
So why are you still slaving away in an office? Head to Australia.com for inspiration and discover all the exciting job opportunities that await you in Oz.