Working hostels are simply brilliant and I would recommend them to anyone. Whether you are a backpacker looking to earn some dollars, or someone just staying in hostels along your travels, getting into the habit of staying in working hostels is a habit I would recommend. A working hostel holds that name as it actively looks for work for guests. So, upon arrival you can have a job in minutes, or at the most, within a couple of days. Almost always, the work is seasonal work – pruning, picking or packing fruit and vegetables. However, they also will often hire within the hostel itself but this is something I will talk about more in another post as almost all hostels follow this style of hiring.
Alongside the wonder that is word-of-mouth, working hostels act as one of the best gateways to finding a job when travelling. Not only this, but they also act as a source of the freshest and tastiest (free) produce – any crop being picked is almost always brought home by the basket load and shared. Whilst in Australia and New Zealand, I remember eating my lifetimes supply of the most amazing pineapple, melon, peaches, apricots and asparagus! As many find, when you are on a budget that enables for noodle sandwiches and not much else, being provided with this stuff is a gem.
The social life of these hostels is always wonderful too. It will be the most homely and welcoming space you will find along your travels, as they are always the smaller and less bustling hostels. Everyone knows everyone and the owners generally care about the guests like they are family. Sometimes this family vibe can feel a little intimidating upon arrival, but give it an evening of sitting on the sofa or a day in the fields, and this will pass and you will feel a part of it, so do not worry. Employers within the seasonal work industry are often known not always being as fair as they should, so by having a hostel manager or fellow pickers on your side, you have a good foundation of support to put anything right. Therefore I would recommend going through these to find seasonal work rather than sites you find online. By finding work through your hostel, it reduces your chances of having a jammy boss as working hostels have their regular farms they liase with, and so it is not in the farms interest to be stingy with any employees.
I recommend spending some time on Google prior to working out where to stay, as these days people seem to be pretty good at writing reviews of places they have stayed and/or worked. Also, if in doubt don't be afraid to hop on the phone. By calling the hostels, you get a much better insight into the vibe of the place and what is on offer job and social-wise – try not to go solely on the website or online reviews. A chat is always the best source of information. I found that once you start staying and/or working in these type of hostels, you can easily gather up contacts and information from fellow veg pickers, as to which direction is best to head next.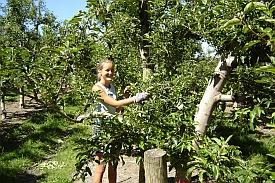 Most places take people on for anything from two weeks to two months, and sometimes more. This is why working hostels provide the perfect pit-stop for sad looking wallets. They also always offer cheaper rates for guests staying for longer periods of time, even if just a couple of weeks.
I have focused this particular post on a few key hostels in Queensland, Australia. Over the following weeks I will follow up with information on other areas in Australia, and around the world. I will also write specifically about seasonal work itself as knowing where in particular to go, and when to go is the key to finding work in this area – there are hubs around the country and the time of year depicts what is happening and where, and how much you will be paid. In the mean time, there are lot of websites out there with this information on so you can gather a good picture of the details needed to get stuck into seasonal work out there.
Working hostels in Queensland, Australia
Bundaberg
This is a key spot for those looking for seasonal work, and has easy access to the beautiful area surrounding it. It is a popular spot for backpackers stopping to work, so gathering a good group of friends during your stay here is guaranteed. Bundaberg is also known as the 'gateway to the reef', with exquisite underwater sites to see, along with vast quantities of fruit and vegetables to pick. This has led to many travellers taking their days off to qualify as an Open Waters Diver from just $299.
Below is just one hostel, loved by all who stay there, but hop on Google for a long list of places to kip and find work in Bundaberg.
The Grand Hostel
Attached to a hotel, this hostel is efficiently run and offers great support for working travellers and a cosy place to stay for as short or as long as you need.
https://web.me.com/msconnor/GrandHotel/Welcome.html
Bowen
This place is a gem in the crown of the Whitsundays, which are an essential spot to explore during your travels in Australia. Bowen offers untouched beaches, with endless amounts of snorkelling and diving to be done. It does not have quite the amount of work other areas do, but is well worth researching and timing it right to spend some time in this beautiful place.
Barnacles Backpackers
This peaceful hostel is perfectly located 500m from the beach and provides transport, links and support to find work in the area.
www.barnaclesbackpackers.com
Ayr
The little town of Ayr has a great spirit and almost always has work during the season due to its abundance of water, escaping any drought issues any other spot might face.
Delta Hostel
This well-established hostel provides you with all manor of fruit and vegetable picking in the area, along with a renowned family vibe. Backpackers often pay more than one visit to this place, with Delta having many regulars up their sleeves.
https://www.deltabackpackers.com/delta/
Ayr Backpackers
Another very welcoming hostel, with connections to almost all the farms in the area. With a treat of a swimming pool in the back yard, you can soak your tired muscles and soak up the rays holding a ice cold stubby once your day is done.
www.ayrbackpackers.com.au
Atherton
Tucked away in the beautiful rainforest, this spot is a haven of natural beauty and often thought of as Australia's best kept secret. With Cairns just an hour south, you can explore the outdoors and then grab your dose of city life if need be too.
Atherton Travellers Lodge
A home away from home – soak up a few weeks of life as a proper local thanks to this small and cosy hostel.
Address: 37 Alice Street, Atherton, Queensland
Telephone: +61 (7) 4091-3552