Introducing Blake Williams BASI Level 4 – After completing all of the British system and granted the Carte Pro from the French, he is here to talk about the things potential ski instructors should be looking for when they are booking onto a course and as a director of a ski instructor training programme he is in a great position to do so.
Before Booking for your Gap Year
What qualifications does it offer?
Options could be: BASI (British), CSIA (Canadian), PSIA (American)
I would recommend that if you are British that you chose the British qualification, especially if you want to work afterwards. Working in Canada and America has become difficult in recent years for non-residents with visas proving very difficult to obtain. With the British qualification you are recognised all over the world. France is a slight exception where they require the test technique if you have not achieved BASI Level 4.
What are you looking for? Lots of partying or to become a better skier?
I think this is important because if you just want lots of partying there are some great resorts like Val Thorens, Val d'isere, St. Anton, Mayrhofen, etc. and it is pointless spending money on your instructor course if you are just partying every night. Learning to ski on a hangover is too tough and not effective! So if partying is what you are after then you could work in a bar in a party resort…
If you want a bit of both, there are opportunities to party in most ski resorts but you don't want to do it too much as it will affect your ability to make the most of your skiing. I would suggest going out when you don't have training the next day.
Who are the coaches going to be? Are they part of the same system you are joining (BASI, CSIA etc.)?
What qualifications do they hold? Your safest bet is to go with someone who is qualified to the highest level that the system offers whether it's BASI, CSIA, PSIA, etc. This ensures that you are going to get good tuition!
It is best that your coach is part of the same system as you. The reason for this is that every organisation has their own terminology despite expressing essentially the same thing.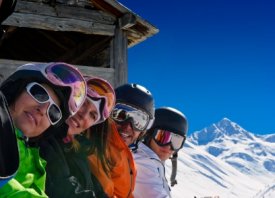 When it comes to your exams it is best to have learned using the same terminology as your being assessed on.
Location & Lift pass?
Look for areas which are snow sure, north facing resorts, with plenty of snow making facilities. Large ski areas will offer the biggest variety in terrain.
Quality of food and accommodation?
A gripe I hear from gap year students on some courses is that the quality of food and accommodation is on the poor side of basic. I don't think anyone should expect total luxury but if you are staying somewhere for 10 weeks then it should be comfortable and enjoyable! You should expect to share a room unless you have paid extra not to. The chalet should be nice, ideally with some sort of social area. Staff should be friendly and the food should be of a high standard. Make sure you check these out. You spend quite a lot of hours in your accommodation and eat there almost every day so it's worth taking the time to check.
Extras that are offered?
Are there extras included? If so what are they? Some of these can add up to being very valuable!
Cost?
Find out the cost and what's included. Here are some of the things to look for:
Type of lift pass? Limited or full area?
Duration of course?
How much does it cost to get to the resort?
Number of hours of tuition? Number of hours shadowing? These are 2 different things. Shadowing is when you are watching a qualified instructor do their job. Tuition is when you are receiving direct feedback on your own skiing. Quite often shadowing is referred to as snow-school experience
Are transfers included?
Can you service your own skis or are you going to have to pay someone else?
What sort of pass rates has the course had in the past? Obviously, the higher the better but these pass rates allow you to get an idea of the standard and seriousness of the training.
Once you have looked at and taken into consideration all of the above then you are in a much better position to make a decision. With many courses claiming they are the best it is often pretty tough to choose between them, hopefully this article will help you to ask the right questions and look for the relevant information.
If you have any further questions or there is something you are unsure about then please feel free to contact Blake. He is in a great position as he maintains many contacts and understands the British and French instructor systems inside and out.
Blake is a director of the skivo2 instructor training programme, which offers the BASI qualification, and boasts a 100% pass rate at Level 1 & Level 2. Based in Le Praz, Courchevel, follow this link for further information or email blake on [email protected]