Even though this is by no means a fashion blog, deciding on your wardrobe for either a short-term volunteer abroad program or a longer-term posting overseas can be often be a somewhat difficult task. Here are some helpful tips for how to pack a versatile wardrobe (and some personal items) for your volunteer trip abroad.
They say that women wear 20% of their wardrobe 80% of the time. But even bringing just 20% of your clothes with you isn't possible, or that 20% might not be appropriate for your intended work in your new country. Power suits won't do for animal conservation in the jungle! Some people take the super-light packing to volunteer abroad route – this list is a bit more comprehensive since not everyone can comfortably pack so little. I know that I can't!
We've created a packing list to help you get started packing for your trip. I always find the packing part to be the most exciting – thinking about the places I am going to walk in my tennis shoes, where my backpack in going to travel, the things I am going to see in my jeans – packing is what really gets me excited about traveling! But for some people it's a really overwhelming process, especially with many airlines charging fees for checked baggage, and other constraints sometimes limiting the number of bags you carry to just one!
1) Neutrals, neutrals, neutrals!
It may sound boring, but everything from packing to unpacking to getting dressed is easier when you're dealing with neutral colors (black, white, beige, brown, navy). This may not fit everyone's fashion aesthetic but think about all of the great accessories you will pick up on your travels. Jewelry, scarves, hats belts…they will help you bring a little culture – and color – into your wardrobe once you are in-country.
Netural doesn't just refer to color. You should be able to do a little research to see if blue jeans are appropriate in your host country for guys, girls or both. For places that are too hot for jeans, linen pants might be the norm. For outdoors-heavy volunteer adventures, it might be cargo pants. Figure out the most appropriate everyday staple, and pack at least two of them. Add a few layering t-shirts and tops and you'll have plenty of outfits at your disposal!
2) A waterproof jacket.
Every traveler should have a mid-weight (really, as light as possible that still provides some warmth) rain jacket, that leaves enough room to add some layers if the weather gets cool, but won't make you sweat if its hot and rainy. Even if you are volunteering in the desert, you never know what Mother Nature might bring, and you'll want to be prepared. Some people who do some trekking suggest rain jackets that fold into themselves, but I'm happy with a simple zip-up jacket that's easy to roll into a suitcase.
3) Anything that you can only get at home.
This requires a bit of research, but I know many a volunteer who couldn't believe how much they had to pay for that special toiletry item in their host country, and wished they'd brought a bottle or two with them in their pack. Sometimes its deodorant, sometimes its eye drops. If there is something that you use every day that requires a specific brand, do a little Googling to see if it is readily available abroad. If not, pack it.
4) Ladies, bring a dress. Gentlemen, bring a tie.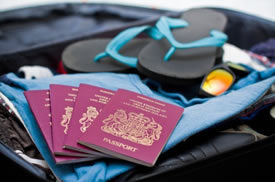 While I worked abroad, I was invited to two weddings and attended three fundraising cocktail parties. Many of the volunteers I worked with were as well, and panicked that they didn't have anything appropriate to wear. Since cocktail attire wasn't on my list of approved purchases on my limited income, I was glad that I'd packed a versatile, travel-friendly jersey little black dress, and my male friends were fine in collared shirts and slacks. These don't take up too much room, and are well worth it.
5) Convertible clothing.
Pants that zip off into shorts, jackets with zip-out lining – these are a volunteer's best friend while abroad! They save space and still allow you to change up from warmer to cooler temperatures. REI is a great go-to for outdoor, multi-purpose clothing. Sierra Trading Post is also great for those on a budget.
6) Shoes that fit your environment.
This is a bit overdone, but I really love Tom's Shoes, not only because of the "one-for-one" shoe giving that they practice, but also because they are durable and versatile. A pair of neutral Tom's can be worn with just about anything. For wetter climates, a great pair of waterproof sneaker-boot hybrids might be an investment, but well worth it. Tropical locations will require waterproof sports sandals or something similar. And a great pair of flip-flops are easy to pack and come in handy just about anywhere!
There are other items that made it onto both of my "live abroad" lists: a laptop (some might argue that this is unnecessary, but it was extremely valuable for working from anywhere are staying connected with my friends and family…and maybe watching a DVD or two), multi-purpose tool (like a Swiss army knife or credit card tool), safety pins, travel first aid and sewing kits, MP3 player, prescription meds with their prescriptions, extra plastic baggies for airport security.
The key to packing for a volunteer adventure is under-packing. I picked up some great advice from someone right before I left to study abroad:
Take everything that you think you want to take with you and lay it out on your bed.
Remove half of what you have, keeping only things that you absolutely must-have.
Remove half of what is remaining – choose the clothes and personal items that you make you feel comfortable.
Start packing.
Enjoy!