Working abroad is a great way for students to get experience and a bit of cash during the summer holidays. As the US and UK academic years generally runs from late September to June, thousands of university students head overseas before their courses resume in the autumn.
As their time is limited, students tend to focus on jobs that bring excitement or unusual experiences on a daily basis. Working in summer resorts is a popular option as demand for staff peaks in late spring/early summer, and volunteering abroad is a perennial favorite.
However, a small industry has sprung up to send students abroad to work at summer camps, particularly in the US. Freshers' fairs across the country have stalls manned by BUNAC and CCUSA representatives, securing the next year's crop of young people to spend 10 to 12 weeks looking after children at residential camps.
Alex Sawczuk was one such Manchester University student recruited by Camp America to work at Camp Shane in upstate New York when he was 20.
Unlike the general camp counselor role, where the adult is responsible for a certain group of children and spends all their time with the same kids, Alex was an IT specialist as well and supervised the computer equipment for all campers to use.
He said: "Camp Shane specializes in weight loss and was a rather large camp. The camp itself is often involved in the media, and in fact back during the summer of 2006 when I was working there they had TV crews from The Learning Channel  who were shooting a TV program called Losing It: Tales from Fat Camp which followed several of the campers around through the time they spent there."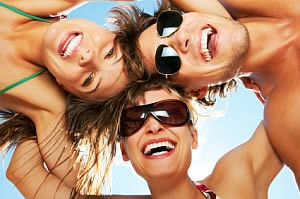 Alex did not deliberately pick a weight loss camp, but applied to Camp America late in the scheme and had to take the first job offer he received, which was in late April, and began working in June.
There were several reasons for choosing to work abroad that summer: "One of my friends was doing a similar thing and I was keen to spend the summer out of the country too.
"As I was studying Computer Science at the time, my tutors were eager for me to spend the summer working in IT somehow. So when I applied I listed IT as one of my skills, as others often list sports instead."
He did not need to be qualified to work for Camp America, but doubts he would have been placed in the IT specialist position if he did not have a background in computers. He found the day-to-day routine easy enough to cope with, if a little repetitive.
"At a summer camp you work six days a week and get three evenings off in that time. The rest of the time, you're on duty. My typical day was the 8.30am wake-up call – boys got breakfast after the girls, but then we all enjoyed the extra hour in bed!
"Then everyone would go down to breakfast and eat, before coming back up and having to get down to the IT cabin for the first group of the day – the girls and boys timetables were offset by about half an hour to get everyone into the dining hall.
"We'd have groups in the morning followed by lunch, then several more groups in the afternoon followed by dinner. In the evening I'd once again be in there if on duty, when just anyone including staff can use the computers."
One of the largest drawbacks to working at a summer camp is the low pay, as Alex found out, but as already mentioned the work experience and different culture can offset the financial side. Crucially, the camp provides the accommodation and food, so expenses are minimal.
Alex said: "The salary on Camp America is poor. You get basic pocket money of about $800 to $1000 for your first year and you're on camp for about 10 weeks. However, you do get a free bed – but obviously in the same room as a bunch of kids!
"You have to pay various fees to Camp America and then they streamline the visa process. There are several agencies that can organize these things, I found out on camp that there were better alternatives to Camp America when you look at just costs and the amount of money you receive."
However, Alex did not enjoy every moment of his time working abroad, largely because he felt constrained by camp protocol. He said he would recommend the overall experience, but thought the general counsellor jobs may give people more satisfaction than a specific position.
"If you like kids then going to be a camp counsellor can be pretty great, however the specialist jobs on the camps can easily become rather repetitive. You can have all these ideas and things you want to do, and often find yourself frustrated and unable to do them.
"In the end for the main course of my stay my job became nothing more than an internet monitor, making sure people didn't hog the computers for too long – and understandably I found this rather frustrating and boring after a while. I didn't intend to come all the way across the Atlantic to waste my summer doing nothing much on the internet."
There were obvious upsides to the summer spent in the US, as Alex explained: "Meeting so many people out there, the first week before the kids was brilliant and more like Freshers' Week at university with a little bit of work mixed in there.
"Then, once the kids initially arrived it was good to meet them all, and it was very interesting seeing all these kids and how they get on – or don't in some cases."
Yet even the social side of being a camp counselor was affected by his specialist IT role: "I found myself drifting away from people who I'd got on well with in the first week as I found myself pushed off into this tiny little room for the majority of the summer. I think I'd have preferred to just be a normal counselor and see everything.
"The other big negative was the food. This was a weight loss camp and the food portions were rather stringent and rather poor quality. Often the meals just didn't do anything for me.
"Being 6-4 and rather skinny, I often found myself incredibly hungry despite taking seconds or thirds. I quite often found myself going to Burger King or McDonald's, which was a 20-minute walk away from the campsite – mainly as that was the closest cheap food!"
Working in the US gave Alex the traveling itch, and now he has finished his degree he wants to get more IT experience in foreign climes."
"The experience is definitely one I'd recommend to students to do one summer while they're at university," he said. "However, I'd say just be a general counselor rather than a specialist if possible, as then you'll get the biggest range of activities, as well as properly getting to know your campers."