Unless you absolutely hate everything about your home country, the chances are you will feel a bit nervous about upping sticks and working abroad. Luckily, many causal jobs in foreign climes are seasonal, so you can try out the work for a few months and come home again if you do not like it.
The hospitality sector is a huge employer during the summer months, as hotels, hostels and campsites need staff to look after their guests. Jade Leeming, 20, from Skipton in North Yorkshire, spent almost four months working in France as a camp courier for Canvas.
She worked at Le Bois Masson campsite in western France, near a seaside town called St Jean-de-Monts in the Vendee, from May 26 to September 10 in 2008.
She heard about the job while completing a BTEC in Travel and Tourism at Craven College, as her tutors passed on details of vacancies to their students. After applying through the company website, she attended an interview and was matched to an available campsite. People out of education who like the sound of the job can find out about Canvas' summer 2013 vacancies here.
She said: "During the day I had to clean customer accommodations and make sure they were ready for the customers coming in after 2pm. When guests arrived in the afternoon, we would show them to their accommodation, and give them a brief introduction to the site.
"We took it in turns to do night duty, which entailed being on call if anything needed doing or if late arrivals came in. I had one full day off a week, as well as a few hours here and there."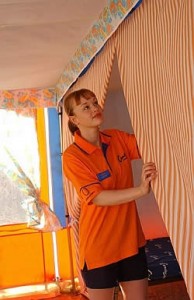 Jade's motivation for working abroad was to gain experience for her later career. She said: "I've always liked travelling, so by working abroad for a summer I knew I would gain more experience to do it later and gain a better job within the travel and tourism industry."
Her wages came to about £600 per month, leaving about £500 after accommodation and living expenses were deducted, yet Jade acknowledged that not every company provides food, accommodation or travel expenses for their employees.
However, she was happy with how well Canvas looked after her travel arrangements.
"My flights were all organised by Canvas themselves. They booked a flight for me from Stansted to Nantes airport, and it was an hour-long train journey to the campsite from there. I was fine without a visa because I'm from an EU country but people from other countries would need to apply for a work visa before they arrived."
Was previous experience necessary to get accepted for the job? "Well, I had a head start because I spent the two years beforehand doing a BTEC, but speaking to other people, most of them had degrees or some sort of qualification but nothing specific. Some of the reception staff who had to interact with the foreign guests everyday had to be nearly fluent in that language, but that was pretty much the only qualification needed."
Living in a country which speaks a different language might pose a problem for some, but Jade managed to get by on schoolgirl French. She said: "I did French at school so I knew the basics and could string a conversation together! I was not always perfect but the French staff were happy to help me and correct my worst mistakes. Being immersed into the community really helps and makes you learn the language faster – you pick up things without even realising, which was good. Also, the French staff helped a lot with anything you didn't know."
Although setting up her future was one of her main aims for working abroad, Jade said the best part of her time in France was gaining her own independence. "I basically lived on my own for the summer, which makes you learn a lot for yourself. I made loads of great friends who I still keep in contact with, so it lasted much longer than a summer."
Surely spending the best part of four months abroad must have had its low points as well? Jade struggled to find anything to criticise, and finally came up with: "Probably the amount of luggage I could take with me, as I was only flying budget so the limitation of 17KG for four months was not a great. I ended up having to pay about £60 excess when I travelled out!"
And if that is all she can find fault with, it must have been a fantastic summer working in France!