Whilst working abroad is undoubtedly the best thing you'll ever do, organising your trip can be tough: you have to deal with unfamiliar companies, different interview techniques, deadlines months in advance of when you intend to begin and often visas, accommodation, air travel and miles and miles of red tape.
That's where the assistance of experts comes in. They already have the jobs and contacts you need to find work abroad, and what's better is that they can help you get through the paperwork ensuring that the process to working abroad is a comfortable and even an exciting experience. One great company that does all of this is Yummy Jobs.
Yummy Jobs is a UK & USA based company that organises placements within top class companies, giving you the opportunity to both further your career and learn invaluable life skills to help you in the future. Set up by Jason Smith in 2000, Yummy Jobs now places over a thousand people into hospitality jobs & education per year, recruiting from the UK, Ireland, the Netherlands, Switzerland, United States and Canada!
Yummy Jobs Work Placements Abroad
As the name suggests, the company focuses on fun, enjoyable jobs for those wanting to kick-start a career in hospitality. Successful candidates are matched to suitable entry level roles within various US and Australian tourism organisations, ranging from life guarding and retail to waitressing, bartending and front desk – and you'll often experience work in several different sectors. A unique cultural experience!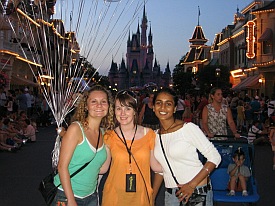 And when we said Yummy Jobs candidates go to top-class companies, we weren't kidding! Most enroll on the Disney International Programs in Walt Disney World in Florida, and get to work side-by-side with the number one entertainment company and providing the very best customer service to thousands of guests each and every day!
In addition to the magical opportunities with Disney, it is also possible to be placed on six & twelve month internships & traineeships with 4/5 star resorts all over the United States. Their flagship program is the 'Yummy Jobs Hospitality USA Program – Intern and Training,' where participants spend up to 12 months working and gaining training and cultural at locations across the USA. Every area of hospitality is catered for, as they try to offer all the roles involved in running a hotel, from concierge to chefs to food service in family and fine dining restaurants.
The Disney Programs last for three months in the summer to six and twelve months, but Yummy Jobs also offers additional summer positions for university students wanting holiday work, and opportunities in Australia as well as opportunities to gain a Hospitality degree in Switzerland.
"Some people say it changed their lives completely and sometimes it gives people the travel bug, so after their experience through us, they travel in other countries too"
To ensure your application is successful with opportunities abroad you need to understand how to provide great guest service and have enough energy and enthusiasm to get through a eight to ten hour shift and still remember that the guest comes first! "We love to see candidates demonstrate excitement and passion for the industry" is Jason's view, and whilst previous experience is not essential, students on Hospitality and Leisure courses in particular will benefit from what Yummy Jobs can offer.
All of the Yummy Jobs work opportunities are paid, and wages can be anywhere from minimum wage (varies by state) to $10.45 (US) per hour for opportunities in the US and up to $17 (AUS) per hour for opportunities in Australia. Along with the standard hourly pay, it's possible to pick up some overtime during peak season. This enables Yummy Jobs workers to have money for travelling after their placement finishes, allowing them to make the most of their time abroad! Accommodation is usually provided at a minimal cost to keep expenses low, so your savings largely depend on how much time you spend at the mall!
"Don't expect to come home from any working abroad experience with a deposit on a house," laughs Jason, "but with essential life skills, and unique cultural experience and lifelong memories!" And to assist with having the opportunity to travel, Yummy Travel, part of the Yummy Jobs family, offers competitive flights and insurance to international students along with other great travel benefits for participants to maximize their program.
Recruitment agencies can also be a great way to ease the burden of bureaucracy, and Yummy Jobs offers complete support every step of the way. Jason encourages his participants to contact the team with any paperwork problems they run into, and Yummy Jobs is always only a phone call or email away and will often touch base just to say HI or with some fun information about the participant's new country. After all, he's been there himself:
"I remember how challenging it was to save up, find a job and get my American visa organised in time, let alone start a new job in a foreign country! That's why we make sure that every candidate we place is supported throughout the whole pre-departure process and given step-by-step instructions to cover everything from the day they accept the job to the day they start."
It doesn't stop there: if you run into difficulties once you've left your home country, Yummy Jobs has great working partners in country that can help deal with your questions and concerns in-country.
With someone there to advise you of timelines and help with tips and techniques, you'll fly through the application process and be well on your way to a flourishing career, so check out www.yummyjobs.com for the latest vacancies!
Happy Travels!
Let Yummy Jobs take you on an adventure…