In the News: Australia is top destination for work abroad
Australia is seeing an economic boom right now, which is causing many unemployed people in the United States to choose a continent halfway across the world to find work abroad. The Wall Street Journal recently picked up on this trend, noting that the Australia isn't just attracting young graduates who can't find jobs right out of college, or are looking to "take a year off" with low-pressure, short term jobs abroad in Australia. In fact, the profession with the fastest growing American population in Australia is accounting, with CPAs (Certified Public Accountant) leaving the US for Australia in increasing numbers. Australia is also becoming a go-to exporter of iron ore for economic powerhouse China, creating more and more jobs for skilled workers. 
Why the emphasis on Australia? Unlike the current U.S. climate, the Australia economy is booming. New leadership has also given Australian citizens a sense of pride and growth in their country. As the U.S. economy stalls and political tensions are high, many people are choosing to look for jobs in Australia for cultural reason as well as financial. Many people are more comfortable making a move abroad to a country where they already speak the language and have some familiarity with local customs.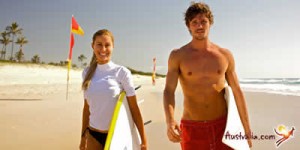 If you are looking for a job abroad in Australia, especially in a specific, in-demand field like Accounting, Project Management or Finance, you can begin your search through the usual online channels – most companies in Australia that are looking to hire U.S. citizens will post to U.S. based job sites in addition to Australia-based ones.
A great way to get your foot in the door for a job in Australia – if you don't happen to have years of experience or a specialized skill – is through a visa and placement program like BUNAC. BUNAC has been featured on this blog and JobMonkey in the past, and is a great, reputable program that helps students and recent grads from the U.S., Canada and the U.K. find jobs abroad.
If you've ever thought about working abroad in Australia, now is a great time to take the plunge!