Working abroad means different things to different people, but a common mistake is assuming there is only one type of job. For some, working in another country means relocating your entire family for a permanent position with a foreign company; others immediately think of a summer's bar work in a European hotspot.
In some professions, it is possible to strike a balance between casual and constant work abroad, such as in archaeology. Hundreds of historic excavations take place at sites all over the globe every year and archaeological digs often need extra help on a long-term, yet not permanent basis.  Imagine being posted out to Egypt for six weeks, or spending three months in Fiji, but still returning to a steady job in your own country!
The specialised knowledge required for intricate work means that anyone hoping to find paid archaeology employment will need to be qualified or at least enrolled on an archaeology degree.
Previous experience at sites in your own country will boost your chances of working abroad, and students are encouraged to find work and practical experience during the holidays. Often universities require students to complete fieldwork as part of their study, which creates demand for placements. United Kingdom sites such as Queen's University in Belfast and Lyminge in Kent hold fixed-term field schools during the summer, which attract applicants from around the world. A list of field schools available globally is available at About.com.
As archaeology is an academic discipline, some of the best sources of information about vacancies are individual university departments, which will internally advertise vacancies to their students. Funding is often available but you may need to apply a long time beforehand to meet selection deadlines.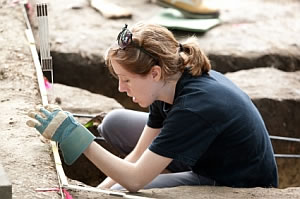 Those outside the educational world can turn to magazines such as Current World Archaeology, which will publish news of current and upcoming world digs, and you can contact organisers directly to offer your services. Pay increases with seniority – a dig consisting of large groups of volunteers is likely to need experienced and qualified people to supervise and manage the work. Those with more responsibilities can expect a wage, even though the students themselves are required to pay to attend.
Websites are invaluable to jobseekers, as they have the most recent job postings and are usually removed when the vacancies are filled.
A great resource is PastHorizons – a website with an interactive map listing different types of volunteer archaeological projects around the world. You can search for excavations, marine placements, field schools, surveys, research projects and laboratory work, with detailed information about the organisers, costs, project lengths and requirements.
For paid work a good place to start is British Archaeological Jobs and Resources, which focuses on the British Isles.  Plenty of European opportunities are listed at the ArchaeoJobs blog, sometimes in English but often in the institution's native language.
People on the lookout for vacancies in the United States should visit Archaeology Fieldwork.  Social media is another flourishing area of jobs listings – check out the archaeologyfieldwork page or BAJR page on Facebook.
It is almost impossible to give advice on pay as each project will differ – well-funded digs with plenty of backing should provide full salaries, while smaller ones may offer hourly wages, but usually the expertise required for more senior positions would command more than the minimum wage.
If you have no experience and still want to work abroad in an archaeological field, voluntary placements may be the answer. Although you will rarely be paid to work – usually having to stump up placements costs yourself instead – volunteers can find themselves helping with rewarding digs that lack enough funding to attract global professional interest.
Gemma Watson, a PhD student at the University of Southampton, spent three weeks working on a dig in Guatemala before she started her first degree in archaeology at Durham. The voluntary trip with Earthwatch Institute set her back about £3,000 as she had to pay for the project and her own kit and airfare, but said it was a "once in a lifetime opportunity."
It was a good way to test her desire to be an archaeologist. Volunteers did not need to be qualified to take part, and Gemma wanted to travel before settling down in education.
Her youth and lack of experience made putting her own trip together a formidable option, so the prearranged placement was perfect. She said: "I wanted the experience, I wanted to see a bit of the world, but I also wanted something organised.
"I would not have been able to do something like that at university – there was no chance of going to Central America then."
Gemma found her project through Archaeology Abroad, an annual bulletin based at University College London, but updated listings can be found at Jobsabroad. Students and graduates can find European scholarships, PhD opportunities and lecturer vacancies at Earthworks.