It has been a pretty difficult year for European air travel so far, and for British Airways in particular. First, heavy snowfall saw planes grounded, then volcanic ash in the atmosphere, and now staff strikes are again threatening to cripple the airline.
UK headlines are full of BAs ongoing dispute with its cabin crew, who want to walk out over a pay row.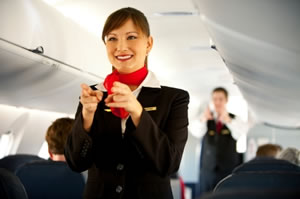 The problem got so severe the airline took the staff union to court, but despite this, the role of a flight attendant still attracts a lot of interest from people who want to work abroad.
After all, what is not to like? You get to fly all over the world, spend time in exciting locations, but still have a base in your home country. The work can be tiring, particularly on long-haul flights which cross several time zones, but short-haul flights can mean a quick turnaround before the plane sets off again, putting pressure on staff to perform well. Although you will need to work weekends, bank holidays and horrendously unsocial hours, working restrictions means employers are obliged to give their cabin crew adequate breaks and you will often get a day or so off on long-haul stopovers.
Cabin crew need to have excellent customer service skills, look presentable and have no visible tattoos or unusual piercings. As the 'public face' of the airline, crew represent their employers to the customers, and are expected to be calm, organised, good at multi-tasking and cope well under pressure. The role calls for friendly, personable characters, as the cramped working environment means divas and selfish individuals will soon fall out of favour.
There is a lot of behind-scenes work, checking safety, attending pre-flight briefings and filling out paperwork, as well as completing first aid training in case a passenger is ill after take-off.
To work abroad as a cabin crew member, you will need to be aged over 18, physically fit and fluent in English. Foreign language skills are a bonus, as is previous customer service experience, but these are not always required.
But what about pay, which is causing so much upset in Britain? Salaries are not as low as you might expect. According to figures from the UK's Civil Aviation Authority for 2008, the average BA flight attendant earned £29,900 per year. This was considerably higher than the nearest UK airline, easyJet, which paid an average of £20,200.
Wage packets vary greatly from airline to airline, with Thompson offering an average of £14,100 and Virgin Atlantic tempting its staff with £14,400 salaries in 2008. Further up the pay scale was Jet2.com, with £16,300, Thomas Cook with £17,400 and BMI with £18,400 on average.
As these figures are average totals, it is likely you will start on a lower wage while you complete your training, although details will vary between employers. Bear in mind also that many airline will pay for accommodation and food expenses during stop-overs, so your salary stretches further.
Of course, working as a cabin crew member in your home country is not strictly working abroad, so people eager to move to a different country should consider applying to work for a foreign airline. This is often easier to do if you already have relevant experience, so starting with a company based in your own country could be the first step.
But where do you find these jobs? Contacting the airlines directly is one route – try searching their current vacancy lists at BA, easyJet, Thomson or Virgin Atlantic for starters.
Or, to save yourself the time of trawling through dozens of webpages, try sites such as CabinCrew.com and CareerInTravel which collect open positions from airlines around the world.